Guidewire Interview Questions & Answers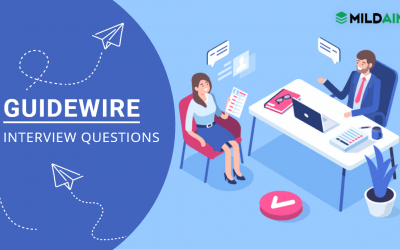 General Insurance Question
Q1. What are the different types of Insurance Coverage?
Ans.
Insurance policy is categorised into two
General or Non-life Insurance
Life Insurance
Q2. What do you mean by 'insurance coverage'?
Ans.
The term 'insurance coverage' means, when an individual takes an insurance policy the insured will be covered by insurance company for a specific amount for themselves or the things that he had taken the insurance policy, for which he would be paying premiums to the insurance company. The insurance company will pay the insured in case of damage or claims made by the insured according to their 'insurance coverage'
Q3. What is a premium'?
Ans.
It is the amount to be paid for a contract of insurance to the insurance company. It is the sum that a person pays monthly, quarterly or annually according to their plan, in return of the coverage he/she has taken from the insurance company
Q4. What is General Insurance policy? What does it cover?
Ans.
General Insurance is basically an insurance policy that protects you from losses and damages other than covered by life insurance. For example it covers
Personal property such as car or house
Accident and health Insurance
Liability Insurance – legal Liabilities
Property against natural calamities like flood, fire, earthquake etc.
Burglary and theft
Coverage on transport vehicles carrying goods like Cargo Ship
Coverage against machinery breakdown
Travel
Q5. What does 'Indemnity' term means?
Ans.
Indemnity term in the insurance is used to cover the loss or damage claimed by another person. For example, the owner of the gym has indemnity insurance to compensate it customers in case of injury or accident and to avoid the financial loss due to a lawsuit
Q6. What is subrogation?
Ans.
Subrogation is referred as the process of seeking reimbursement from the responsible party for a claim that they had already paid. For example, you have an accident where your car gets damaged, and you have car insurance, the insurance company will pay you the money. But the insurance company comes to know that the accident occur due to other party fault, now they will claim the money from the other party this is known as 'subrogation'.

Guidewire Questions and Answers:
Q7. What is Guidewire?
Ans.
A guidewire is a top-notch application for Insurance Field, mostly it is used by insurance companies from all over the world to minimize their IT workflow and simplify the transactions. guidewire software is intended for extreme scalability & flexibility and to offer insurers the ability to deliver outstanding service to policyholders and agents and improve market share – while lessening operating costs. guidewire support insurance processes: underwriting, billing, policy administration, and claims management.
Q8. How many Modules in Guidewire?
Ans.
ts three main software products are ClaimCenter, PolicyCenter, and BillingCenter, each servicing a major component of a P&C insurance carrier. There are a number of add-on modules, as well as an increasing number of value-added online services provided via guidewire Live. Guidewire develops the Gosu programming language, it released as open source in 2010
Q9. What five words would be describe you as Guidewire?
Ans.
The hiring manager requests this of you because she wants to know more about your individual personality. This list can reveal a lot to her about who you are and how you might fit into the workplace. Your answer also gives the manager an indication of your self-perception, which is a good indicator of the type of employee you will be.
Q10. Do you have experience working with different CASE tools? If so, what do you have experience with?
Ans.
The world of software engineering has greatly benefited from advancements in computer aided software engineering tools. Because guidewire Software is at the forefront of the industry, your interviewer will be looking to hear which tools you have experience with. Make sure not to concern yourself with providing a correct answer here, but rather focus on your flexibility to learn new aides when needed while explaining what you have experience with.
Q11. Here at Guidewire Software, we strive for continuous delivery and continuous deployment with our software.
Ans.
In the industries that guidewire Software works in, updates to software are vital to end users for them to stay at the forefront of their business. To ensure that updates happen as quick and smoothly as possible, guidewire Software utilizes continuous delivery and continuous deployment for their customers. For this question, talk about what you know about these processes as a software architect, why they are important and what experience you have with them.
Q12. What do you consider to be a good litmus test for when you would automate a test process for a new system versus testing manually?
Ans.
As your role with guidewire Software will look to help further their automate testing processes for new systems, you will need to have a good sense for when automation makes sense and when it does not. Reiterate your sense for this to your interviewer by sticking to the high level response that repetitive tasks, as are common with large software companies, are prime candidates for automation whereas one time test cases are not
Guidewire Online Training is being offered by Mildaintrainings. Our guidewire Training makes every student a specialist in working with Guidewire insurance Suite, in this training every student will learn about Guidewire Policy Center, guidewire Billing Center, Guidewire Claim Center and Configuration and Integration Training Modules by the Certified Working Professionals. The guidewire training provided by the trainers offers an end-to-end set of applications that support insurance operations like policy administration, Billing, underwriting and claims management. We provide comprehensive training to gain knowledge. We provide guidewire training with the case study and practical demonstration for your guidance too