GUIDEWIRE TECHNO FUNCTIONAL TRAINING
Guidewire | Guidewire training course is a comprehensive training program for the professional which covers all the essential concepts of Guidewire software and equips the professionals with the ability to work with the Guidewire tool effectively. Extensive demand and opportunities available in Guidewire, this online training program is intended to make you a specialist in the progressive Guidewire technology
60 Hours
For Corporate/Online Training

  Reviews 
Guidewire Training Courses
Why Guidewire Training?
GuideWire training course is a comprehensive training program for the professional which covers all the essential concepts of Guidewire software and equips the professionals with the ability to work with the Guidewire tool effectively. Extensive demand and opportunities available in Guidewire, this online training program is intended to make you a specialist in the progressive Guidewire technology. After the successful accomplishment of the course, you can work with the Guidewire insurance Suite with ease.
Important topics
Insurance Suite
Insurance Suite Cloud
Using interactive online platform, you can avail complete training on various essential concepts in Guidewire. Clear and crisp knowledge can be acquired about above-mentioned areas with the help of this course.
Guidewire Online Training is being offered by Mildaintrainings. Our Guidewire Training makes every student a specialist in working with Guidewire insurance Suite, in this training every student will learn about Guidewire Policy Center, Guidewire Billing Center and Guidewire Claim Center Modules by the Certified Working Professionals. The Guidewire training provided by the trainers offers an end-to-end set of applications that support insurance operations like policy administration, Billing, underwriting and claims management. We provide comprehensive training to gain knowledge. We provide Guidewire training with the case study and practical demonstration for your guidance too.
What skills I could achieve from this Online Training Course?
How to use Guidewire Tool to Strengthen the Focus with Customers?
End-to-End Claims Lifecycle Management
Filing Report on Intuitive loss-report intake
Managing advanced adjudication processes
Expertise to track all required claims-related financial data
Why is Guidewire in so much demand among Insurance Companies?
Dynamic and Adaptive Processes – With the help of this revolutionary tool, the insurance organization can develop the ability to process the loss report and intakes dynamically and adaptively. It can largely help the organization to improvise and track the quality of their customer service. Productivity – Guidewire Tool had evolved as one of the most sought tools in the Insurance Industry for its following exceptional capabilities.
Ability to automate the task generations and tracking processes
Consistent and Real-time collaboration support
Seamless integration with internal and external systems
Immediate access to information
All freshers and professionals who want to enhance their career opportunities in insurance sector can take up this course.
Who should take-up this Guidewire Training?
This professional training course is well suitable for a wide range of IT professionals. Software professionals, in particular, can make the most out of this training. The coding paradigm followed by the Guidewire platform is GOSU which is similar to Java in terms of programming style. It is well-suited for software engineers and programmers with an optional background in programming. The course helps the trainee to deal with all latest technologies and management techniques pertaining to the Guidewire tool
For Corporate & Individual
Customized Corporate Guidewire Training
As can be seen, Guidewire offers various products for the insurance sector and not all of them are necessary. As such Mildain offers custom Guidewire training with emphasis only on modules that are often in use. Subsequently, participants can choose Guidewire training, later on, to further enhance their knowledge. It is common that insurance companies usually outsource their claims handling to various agencies and for personnel of such agencies, we recommend custom Guidewire Policy, Claim & Billing Center training that focuses on the claims management part of this vast software solution for insurance companies.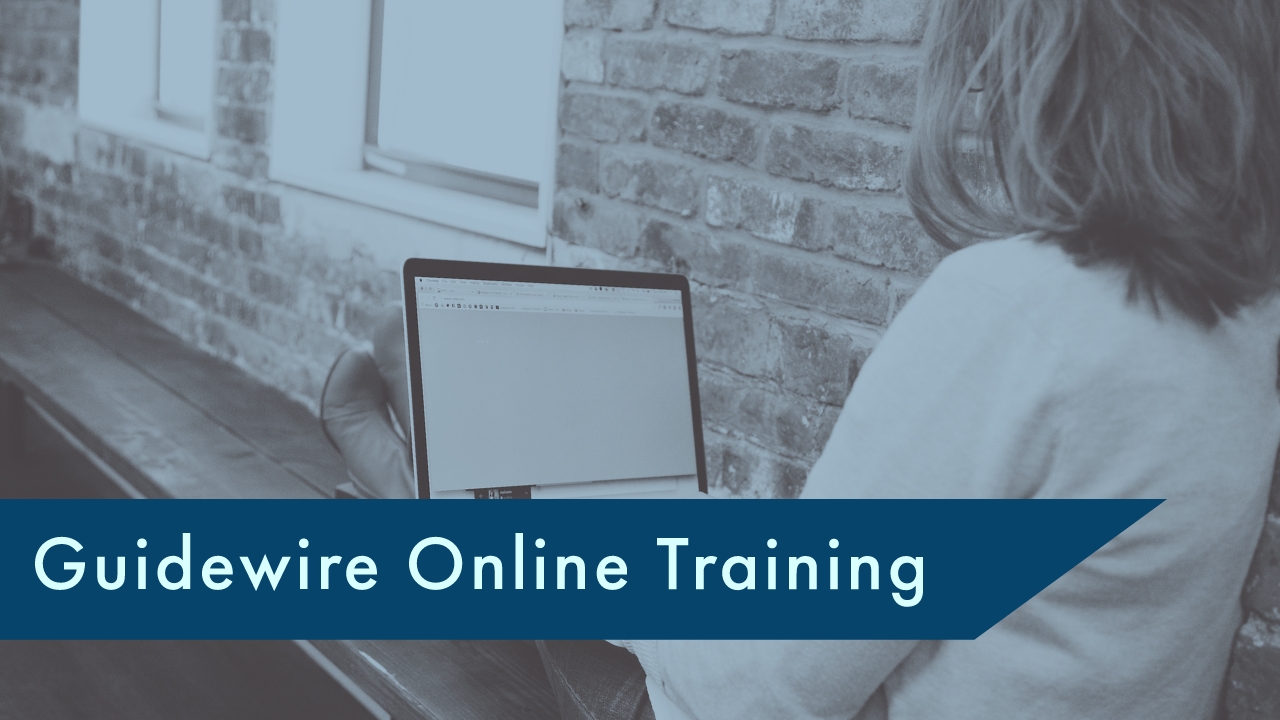 What is Guidewire and which industry uses it most?
Guidewire is a leading software company in the Insurance industry. It has 3 major products which are
one of the most popular products in the Property and Casualty Insurance Industry.
The Products are :
 Policy-Center
 Claim-Center
 Billing-Center
Who should learn Guidewire?
Guidewire online training from Mildaintrainings IT will make you expert in working with Guidewire
Insurance Suite. In these training sessions you will be having a good understanding of Guidewire Policy
Center, Guidewire Claim Center & Billing Center.
What will you learn in this Guidewire training?
After completing our training, the learners will be able to:
 How to use Guidewire Tool to Strengthen the Focus with Customers?
 End-to-End Claims Lifecycle Management
 Filing Report on Intuitive loss-report intake
 Managing advanced adjudication processes
 Expertise to track all required claims-related financial data
Why should you learn Guidewire to grow your career?
Extensive demand and opportunities available in Guidewire, this online training program is intended to
make you a specialist in the progressive Guidewire technology
The average salary of a Guidewire professional is $124,971 per annum.
What are the Objectives of Guidewire Online Training?
Upon completion of this training, the learner will be able to:
 Understand the fundamental concepts of Guidewire.
 You will learn about extensive Guidewire suite configuration tasks and terms.
 You will perceive different business prototypes.
 You learn to organize Claim center, Policy Center and Billing Center.
Which language is used in GuideWire?
It's Gosu (The Gosu Programming Language). Gosu is an open source JVM language based on Java and
C#.
Does Guidewire testing require coding?
Coding knowledge is always handy. To be a guidewire tester , you need to have a good hold on the
insurance domain and good functional knowledge on guidewire's products . Added skillsets are bonuses
and make you stand apart.
It was a wonderful learning experience. Trainer's knowledge is impressive and great teaching capability. The course content is great. The session was interactive which was very good. Thanks for everything Mildaintraining!!
I am extremely thankful to Mildaintrainings providing such good knowledge on Guidewire PolicyCenter, Especially thanks to trainers for giving good basics on Guidewire. Sincere thanks to Mildaintrainings for providing such good materials regarding courses.
Excellent online training institute, clear and in depth concepts in Guidewire, real time examples
The Trainer was a master of all the concepts in Guidewire training. Great to learn at Mildaintrainings.
Good Quality training with Real time experience trainers and hands on experience training. Thanks Mildaintrainings….
I took my online training for Guidewire ClaimCenter from Mildaintrainings. I must say the course content was highly reliable and the trainer covered even the slightest of concept. Overall it was a good experience with Mildaintrainings.