SAP HANA TRAINING
"SAP HANA Training" |SAP HANA certification training course lets you master SAP HANA. We provide the best online classes to help you learn in-memory database, HANA Studio, Modeling, real time analytics. Work on real world projects.
5 Days / 40 Hrs | For Classroom & Online Training

  Reviews 
Hyderabad | Bangalore | Chennai | Delhi | Gurgaon | Noida | Pune | Chandigarh | Singapore | Australia | UK | US | Canada | South Africa
ONLINE CLASSROOM
Instructor-Led Training
Live Online Classroom
ONE TO ONE
Instructor-Led Training
Live Online Classroom
TEAM / CORPORATE
Train Your Team
And Up-Skill Them
OVERVIEW
SAP HANA TRAINING
This SAP HANA online training from Intellipaat will ensure you get a good grasp of SAP HANA fundamentals, learn and deploy real-time analytics. HANA is an on-premise application that is used for gathering real-time insights. In this SAP HANA training you will learn about SAP HANA Studio, Modeling, Security features and various other aspects.
You will understand why SAP HANA is a fundamentally different database engine upon completion of this SAP HANA course.
Course Objective:
Learn SAP HANA basics, features, architecture, and terminology involved
Work on HANA Studio Modelers and gain expertise in modeling
Master SAP HANA Interface, client and connectivity
Auto-documentation process and SAP BO Analysis
Learn SAP HANA administration activities like managing users, storage and security
Master System Replication, data provisioning, and ABAP Dataflow
Configuring, reporting, monitoring & dashboard creation using SAP HANA
Work on real-time and complex HANA projects
Writing SAP HANA queries and performance tuning
Prepare for  SAP Certified Application Associate Exam
Who Should Attend :
SAP Development &BI consultants, Data warehouse professionals
Data analytics professionals, Database Architects, Project Managers
Benefits:
SAP HANA is one of those platforms that will find much demand form enterprises around the world due to its result-oriented approach to getting work done. This SAP HANA training certification course gives you hands-on experience and knowledge in one of the most sought-after technologies in the cloud, Big Data, and analytics environment. This SAP HANA training is your road to getting high paying jobs in the technology industry
Approaching SAP HANA
Introduction to In-Memory Computing – Fundamentals of SAP HANA, What SAP HANA Can do, What SAP HANA Can't do.High Performance functionalities in SAP HANA – In-Memory computing, Columnar store database, Massive Parallel Processing, Data Compression. SAP HANA for Non-SAP Use Cases – SAP HANA for Non – SAP Analytics, SAP HANA for Non-SAP Applications. SAP HANA Database Architecture, SAP HANA Landscapes and Scenarios.
Introduction to HANA Studio
Add SAP HANA System – Perspectives, Administration, Modeling, Development Plan Viz. Folders- Catalog, Content, Provisioning, Security.SAP HANA Database SQL Script – HANA Database SQL Basics, types of statements, data types, operators, expressions, basic query execution, Sub-query, Joins, Expressions, Loops, Sub-queries. Catalog – Schema, Table, Views, Functions, Stored Procedures, Index, Synonyms, Sequences, Triggers. Provisioning – SDA [Smart Data Access]. Security – Users, Roles.
SAP HANA Modelling
Introduction – Types of Models, Attribute Views, Joins, Using Filter Operations, Creating Restricted & Calculated Columns, Using Hierarchies. Analytic Views – Star Schema design, Multi-Dimensional modeling, Using Variables, Using Input parameters, Advantages & Limitations.
Calculation Views (GUI)
Dimension Calculation View – Star Join Calculation view, OLTP Calculation view, Using Projection, Using Join, Using Aggregation, Using Union, Using Rank. Calculation Views (Scripted) – CE functions Introduction, Creating Content Procedure.
Analytic Privileges
Classical Analytic Privileges, SQL Analytic Privileges, Dynamic analytic Privileges.Turning Business Rules into Decision tables.Table Functions.
In-depth Modeling
Union Pruning, Refactoring information models, Schema Mapping, Propagate to schematics, Show Lineage, Find Where used, Schema Mapping, Generating Time Data.
Modeling (Cont.)
Using Time Travel, Migrating deprecated Information models, Using Currency Conversion.Web based Modeling Work bench. Advanced HANA SQL script -Temporary tables, Triggers, Exceptions Handling.
Full Text Search
Overview, Datatypes & full text Indexes, Using Full text search. Application Life Cycle Management – Transport Using Developer mode, Transport Using Delivery Unit mode, Change management. Analyzing Query Performance- Explain Plan, Visualize plan, Performance trace.
Data Provisioning
Data Provisioning – Data provisioning using SLT, Data Acquisition with BODS, Data Provisioning with Flat File upload
Data Provisioning (Cont.)
Data Provisioning using Direct, Extractor Connection, Security and Authorizations, Introduction to Lumira, Using Lumira Prepare, Visualize compose data.
ABAP programming for SAP HANA
How SAP HANA affects the ABAP development process, introducing the ABAP development tools (ABAP in Eclipse), how to take ABAP to HANA, using SAP HANA as a secondary database, the various issues in performance and functional aspects encountered in SAP HANA migration, understanding the ABAP Test Cockpit, Code Inspector, Profiler, Trace and SQL Trace, improving the performance with SQL performance tuning and monitoring, guidelines and rules when deploying ABAP for SAP HANA.
Accessing data stored in SAP HANA
What is New Open SQL, definition of advanced views by deploying Core Data Services in ABAP, creating CDS associations, how to implement authorization checks using CDS with ABAP, SAP HANA Objects in ABAP, how to consume SAP HANA views using ADBC (ABAP Database Connectivity) and native SQL in ABAP, using the ADBC and native SQL to consume SAP HANA database procedures
Advanced Topics Overview
SAP HANA Dynamic tiring, Delta Merge, SDI [Smart Data Integration], SAP HANA has Application Platform, SAP HANA cloud, L Procedures, R Procedures, Partitioning of tables, Introduction to AFL, PAL, BFL.
Why Should I Learn SAP HANA From Mildaintrainings?
Mildaintrainings is a distinct leader in SAP HANA training. This mildaintrainings training in SAP HANA covers both fundamentals and advanced concepts in HANA, deploying real-time analytics and includes HANA Studio, Modeling, and security aspects of this revolutionary database engine. The entire course content is in line with clearing the SAP HANA CERTIFICATION EXAM.
You will be work in real-time time SAP HANA projects that have high relevance in the corporate world, step by step assignments and curriculum designed by industry experts. Upon completion of the training course, you can apply for some of the best jobs in top MNCs around the world at top salaries. Mildaintrainings offers lifetime access to videos, course materials, 24/7 Support, and course material upgrading to latest version at no extra fees. Hence it is clearly a one-time investment.
What Are The Different Modes Of Training That Mildaintrainings Provides?
There are 4 options available
Classes will be held on Weekdays & Weekends according to the plan you choose.
What if I miss the class?
No problem, you can take backup classes by adjusting in next live session.
Why should I get trained from Mildaintrainings?
At Mildaintrainings, we have trainers with more than 10 years of corporate training experience. we guarantee the following aspects –

Quality of videos
One-year access to Trainer support and materials
Real-time experience through live training
Hands-on training
Study material and Job placement assistance
SAP HANA certification exam assistance
What is SAP HANA certification?
SAP Certification is an exam conducted by SAP SE, the market leader in enterprise application software. SAP certifications help validate the expertise and experience of SAP partners, software users, customers and professionals who are looking to be placed in an SAP environment.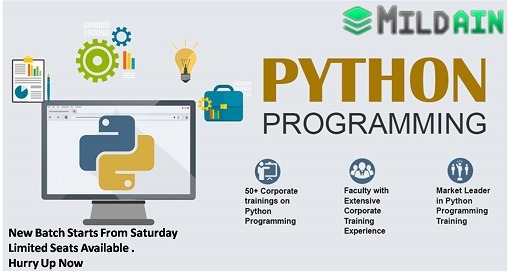 Python Course Online Training Python is an explained, object-oriented, high-level programming language with lively semantics. Its irregular state worked in data structures, joined with dynamic creating and dynamic definitive; make it amazingly engaging for Rapid...
Select a city from the list below to view the schedule.
If you have any questions, please call us at +91-8447121833 between 9:00 am - 6:00 pm IST.