GUIDEWIRE POLICYCENTER TRAINING INDIA
Guidewire PolicyCenter Training India '' at Mildaintrainings, Guidewire PolicyCenter was mainly designed to empower the property and casualty insurers to meet their need rapidly for the changing industry with efficient product management.
It has got the advanced underwriting policy lifecycle management to product definitions, quote, bid and endorse.
32 Hours
For Classroom & Online Training

  Reviews 
Email id: [email protected]
Contact no: +91 8447121833
ONLINE CLASSROOM
Instructor-Led Training
Live Online Classroom
ONE TO ONE
Instructor-Led Training
Live Online Classroom
TEAM / CORPORATE
Train Your Team
And Up-Skill Them
DESCRIPTION
Overview:
Guidewire platform provides a set of core technology components that provide critical building blocks and services to all Guidewire application.

Guidewire applications are built in Java and conform to the J2EE standard.

Web service APIs enable Guidewire applications to integrate seamlessly into a services-oriented architecture and interact with any other applications in any technology.

Guidewire Training applications run on the insurance industry's preferred operating systems and application servers.

The Guidewire training provided by the trainers offers an end-to-end set of applications that support insurance operations like policy administration, underwriting, and claims management. 

We provide comprehensive training to gain knowledge to effectively using Guidewire with case-study and practical demonstration for your guidance by real-time practitioners. 

Guidewire Online Training provides a complete set of applications to support your core operations underwriting, policy administration, billing, and claims management, help you replace your legacy systems and transform your business.

Insurance Suite's comprehensive applications are built on a common platform, covering the Property/Casualty Insurance lifecycle while providing the deep functionality you require to replace your existing legacy systems.
Guidewire PolicyCenter Benefits
Achieve Success During Rapid Market Change
PolicyCenter empowers insurers to achieve success by leading and adapting to industry change.  By enabling employees as well as agents and customers, insurers can improve and optimize operational processes, create and update new products, enter new markets with agility, and drive innovation.
Optimize underwriting, Policy, and Product Management by leveraging customer Insights
PolicyCenter embodies 10 years of innovation through partnerships with more than 100 property and casualty insurers. Insurers leverage this experience and Guidewire's commitment to gain market-driven innovation in customer service, underwriting decision-making, and policy management. This deep industry experience ensures that standard business operations are executed efficiently while reducing total cost of ownership.
CURRICULUM
PolicyCenter Entities

Policy Transactions

Introduction to PolicyCenter Configuration

Configuring Location Groups and Pages

Configuring Job Wizards

Contacts and Locations

Introduction to Product Model

Introduction to Product Model Configuration

Configuring Products and Policy Lines

Configuring Coverages

Configuring Coverage Terms

Configuring Modifiers-Guidewire Training

Configuring Question Sets

Configuring Offerings

User, Groups, Organizations, and Permissions

Assigning Ownership

Field Validation

Validation Rules

Validation Classes

Configuring Side-by-Side Quoting

The Job Lifecycle

Intro to Workflow

Workflow Processes and Elements

Integration Overview

Web Services

Batch Process

Plugins and Messaging
Prerequisites
To successfully achieve the objectives of the course, each student should be able to:
Read and use XML or another markup language such as HTML.
Program in a programming or scripting languages such as C, C++, Java, or JavaScript to create control structures such as if-then-else or loops, define variables, pass variables, access values in an array, and so forth.

Use a relational database to define database tables, columns, and foreign keys.
Audience
This course is designed for all developers who will be configuring or integrating Guidewire applications such as ClaimCenter, BillingCenter, and PolicyCenter
Why choose Mildaintrainings?
Mildaintrainings conducts training only by professionals thoroughly experienced in Guidewire products. They have the expertise and industry experience as well as the teaching ability to transfer knowledge to participants of Guidewire corporate training programs. We are fully committed to ensuring that each participant receives thorough training and becomes fully proficient in the use of Guidewire in real life situations. Our rates are affordable and quality is the highest. We offer training with full support.
Support
Mildaintrainings provides full support to all participants of Guidewire training programs. This support is available prior to commencement, during the program and after the training. When trainees use Guidewire on the job and come across issues we are always available by email, phone or chat to help them resolve their problems. Our experts offer useful tips and guidance to help them do their job effectively and efficiently and leverage the full power of Guidewire to the best advantage of their employers.
Guidewire training from Mildaintrainings is available globally through its online programs and also through centers across India in Hyderabad, Pune, Noida, Gurgaon, Bangalore, Chennai, Mumbai, Bangalore, and Delhi.
KEY FEATURES
• Underwriting rules management
• Rating Management enhancements
• Integrated Spotlight
• Underwriting tools for loss ratio and estimated premium calculations
• Policy contingencies
• Integrated payment
Related Courses
Guidewire ClaimCenter Training

Guidewire BillingCenter Training

 
FAQ| Guidewire PolicyCenter Training
Why should I take coaching from Mildaintrainings?
One must take Guidewire ClaimCenter Training from Mildaintrainings because our trainers are having more than 10+ years of industry practical training experience & also we at Mildaintrainings providing six (6) months technical support and try to solve all the queries.
Why Guidewire PolicyCenter Training?
Guidewire PolicyCenter Training empowers property and casualty insurers to meet the needs of a rapidly changing industry with more effective underwriting, agile policy and product management, and excellent customer service.
Who will provide the certificate?
At Mildaintrainings you will be provided participation certificate after completion of Guidewire PolicyCenter course from Mildaintrainings.
When the classes be held?
Classes will hold in weekend & weekdays accordingly.
What if I miss the class?
If one misses the class in that case you can take backup classes by adjusting in next live session.
What is the course duration?
Guidewire PolicyCenter training course at Mildaintrainings will be forty (32) hrs.
What are the objectives of Guidewire PolicyCenter course?
Mildaintrainings is one of the best training company which provides the '' Guidewire PolicyCenter Training'' classes through our industry experience Instructor. Our Guidewire PolicyCenter course material is prepared by our industry expert having 10+ years of practical experience which will be very handy.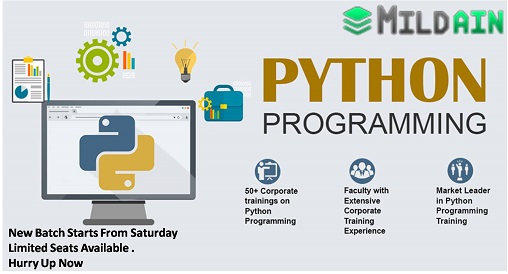 If you've been studying Python for some time, you must've come across NumPy. And you must've wondered what it is and why it is so important. NumPy stands for Numerical Python, is a library consisting of multidimensional array objects and a collection of routines for...
read more