Mid Month offer - Upto 25% off | OFFER ENDING IN:
Thanks for Contacting us Our representative will be in touch with you shortly
This website uses cookies
December offer - Hurry First 10 Participants will get Upto 95% off
Instructor-led Training live online classes
JUN 19th
SAT & SUN (10 WEEKS)
Weekend Batch
SOLD OUT
Timings - 08:00 PM to 11:00 PM (IST)
JUN 28th
MON - THU (30 Days)
Weekdays Batch
Filling Fast
Timings - 08:00 PM to 10:00 PM (IST)
JUL 03th
SAT & SUN (10 WEEKS)
Weekend Batch

Timings - 08:00 PM to 11:00 PM (IST)

JUL 05th
MON - THU (30 Days)
Weekdays Batch

Timings - 07:00 AM to 09:00 AM (IST)
Course Price at
₹24999
₹29999
*No Interest Financing Starts at 2999/month
Can't find a batch you were looking for?
Curriculum
What you will Learn
Describe the benefits of using source control
Migrate from TFVC to Git
Scale Git for Enterprise DevOps
Implement and manage build infrastructure
Manage application config & secrets
Implement a mobile DevOps strategy
Explain why continuous integration matters
Implement continuous integration using Azure DevOps
Configure builds and the options available
Create an automated build workflow
Integrate other build tooling with Azure DevOps
Create hybrid build processes
Describe what is meant by code quality and how it is measured
Detect code smells etc
Prerequisites
Fundamental knowledge about Azure, version control, Agile software development, and core software development principles. It would be helpful to have experience in an organization that delivers software.
It is recommended that you have experience working in an IDE, as well as some knowledge of the Azure portal. However, students who may not have a technical background in these technologies, but who are curious about DevOps practices as a culture shift, should be able to follow the procedural and expository explanations of continuous integration regardless.
Experience working in a software development or operations environment with either Windows or Linux would be helpful but is not essential.
Students should also have knowledge of general application development and deployment processes.
Azure DevOps Training
Mildain Azure DevOps Training Certificate Holders work at fortune Companies like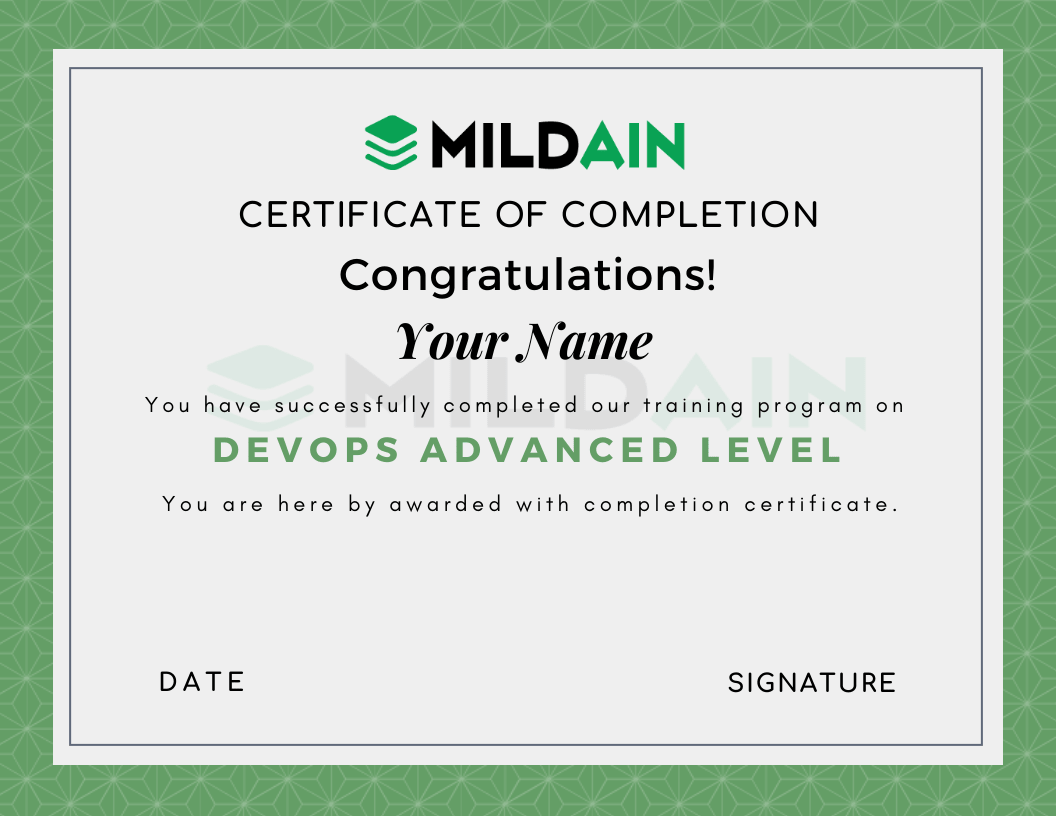 You can enroll for this classroom training online. Payments can be made using any of the following options and receipt of the same will be issued to the candidate automatically via email.
1. Online ,By deposit the mildain bank account
2. Pay by cash team training center location
Mildaintrainings Azure DevOps online training will help you gain the required skill set for getting a Azure DevOps Engineer job. It will make you proficient in Azure DevOps skills like Continuous Integration, Delivery and Deployment, Infrastructure as a Code and more using DevOps tools like Git, SVN, Docker etc.
Mildaintrainings DevOps training is designed to help you become a DevOps practitioner and apply the latest in Azure DevOps methodology to automate your software development lifecycle right out of the class. You will master configuration management; continuous integration deployment, delivery, and monitoring using DevOps tools such as Git, Docker, Jenkins etc in a practical, hands- on and interactive approach.
After completing the DevOps training, you will achieve hands-on expertise in various aspects of the Azure DevOps delivery model. The practical learning outcomes of this Devops training course are:
An understanding of DevOps and the modern DevOps toolsets
The ability to automate all aspects of a modern code delivery and deployment pipeline using:

Source code management tools
Build tools
Test automation tools
Containerization
Configuration management tools
Monitoring tools
This Azure DevOps training will benefit the following professional roles:
IT Professionals
Software Testers
System Admins
Solution Architects
Security Engineers
Application Developers
Integration Specialists
The Azure DevOps industry is expected to grow six times higher by the year 2022, according to Gartner.
The average annual salary of a Azure DevOps engineer in the US is $ 126,500, and in India it is approximately INR 566,232 (PayScale).
Additionally, DevOps and Cloud jobs are going to be among the highest paying jobs in the coming years, according to Forbes.
Highly qualified and certified instructors with 20+ years of experience, who have delivered more than 200+ classroom training.
Contact us using the form on the right of any page on the mildaintrainings website, or select the Live Chat link. Our customer service representatives will be able to give you more details.
You will never miss a lecture at Mildaintrainigs! You can choose either of the two options: View the recorded session of the class available in your LMS. You can attend the missed session, in any other live batch.
We have a limited number of participants in a live session to maintain the Quality Standards. So, unfortunately, participation in a live class without enrollment is not possible. However, you can go through the sample class recording and it would give you a clear insight about how are the classes conducted, quality of instructors and the level of interaction in a class.
Yes, the access to the course material will be available for lifetime once you have enrolled into the course.
Just give us a CALL at +91 8447121833 OR email at info@mildaintrainings.com
2344
Total number of reviews
4.5
Aggregate review score
90%
Course completion rate
Kuldeep

The DevOps course was very informative. I learned a lot. Thank you Mildain.

Rutuja Patil

The trainer used to share a lot of real examples with us which helped us to understand easily. Overall greate experience. Thank you Mildiantrainings.

Swathi

Good experience to lean DevOps course form MildainTrainings.

Anil kumar

Thanks to Mildaintrainings for such an amazing DevOps Training and course materials.

Raju Jayaram

I would like to take up more training with Mildaintrainings. Trainer is AWESOME. He is the Best trainer I have ever had till date in my Professional Career

Navdeep

Perfect sessions to know all the key concepts of DevOps. Thanks to the support team as well.

Shiva

Well-structured course and the instructor is very experienced. He has an exceptional Knowledge on DevOps and clears our doubts.

Jaiprakash

I did my DevOps certification. It was nice session and instructor is very nice.

Ramesh

Training experience was awesome, trainers were very helpful.
Instructor-led Sessions
---
Online Live Instructor-Led Classes.
Classroom Classes at our/your premises.
Corporate Training
Real-life Case Studies
---
Live project based on any of the selected use cases, involving implementation of the various Course concepts.
Assignments
---
Each class will be followed by practical assignments.
Lifetime Access
---
You get lifetime access to presentations, quizzes, installation guide & class recordings.
24 x 7 Expert Support
---
We have 24x7 online support team to resolve all your technical queries, through ticket based tracking system, for the lifetime.
Certification
---
Sucessfully complete your final course project and Mildaintrainings will give you Course completion certificate.
Inquiry: Call | Whats App: +91-8447121833 | Email: info@mildaintrainings.com