Introduction of Blue Prism:
Wouldn't it be nice to break free from laborious, repetitive implementation cycles? Imagine having a friend to do all your manual data entry! Imagine, a 'virtual workforce'.
Blue Prism is a tool, established by a UK based multinational software company, that offers business Robotic Process Automation software to reduce risk, manual data entry and processing the data.
It automates applications and supports any platform presented in a variety of methods. It has been designed for a multi-environment deployment model with physical as well as logical access controls. It introduces a centralized command interface and process change distribution model by rendering high levels of visibility and control.
Blue Prism software enables organizations to become active, without introducing operational opportunities. A company has the capability to integrate, automate, organize systems and also processes to build a "virtual workforce" with the Automation Platform.  The virtual workforce can be instantly used, at scale; to address people resource concentrated tasks, producing operational flexibility, compatibility of service and cost-effectiveness.
Why choose only Blue Prism??
Here, the main reason for opting Blue Prism is, the Robotic Automation technology, that provides an option to popular IT-driven entrances by enabling authorized business users, that are supported by IT, to build, verify and perform new business processes rapidly, securely and in a flexible fashion, across multiple demands and systems, put into the business production environment.
Blue Prism is secure, scalable, adaptable, and versatile which also supported by a general methodology, operational framework and presented as software.
It works on a simple concept, that is, duplicating user action on the desktop, and making it business strength.
The technology has developed and expanded within the "presence of IT governance" and it has process modeling capabilities and excellent error handling to ensure it can perform at the range within demanding, extremely complex operating conditions.
How to setup Blue Prism???
Blue Prism software uses a system to launch applications to perform optical recognition by creating process flow diagram, in which, each box is configured to do specific actions.
How to install Blue Prism???
To install Blue Prism on your desktop below are the prerequisites:
•    Windows Operating System
•    Microsoft .NET framework
•    Supported Microsoft SQL Server Database.
Blue Prism can be installed on supporting windows which supports Windows XP, Windows 7, Windows 8.1 and also Windows 10. Blue Prism is installed on 64-bit Operating System and it will run on the 32-bit application.
You need to have .NET in your system and must search and verify programs and features from the control panel.
What are the steps to download and install SQL server???
Here, you need to have SQL server database that can be downloaded by following the below process.
1) Go to Microsoft official website homepage Microsoft.com and from there you can search for SQL server 2014.

2) Now, select SQL Server 2014 SP2 (Service Provider-2) and click on download by selecting 64-bit or 32-bit.
3) Click Next, and then it starts downloading.

4)  Once done with the downloading, start the installation of SQL server database.
5) To begin installation, double-click on SQL server, click Ok and then YES. It then starts the extraction of the setup files. Once it is done, you will get the SQL server standalone installation.
6) Read the displayed license box and select I agree. click on NEXT after that.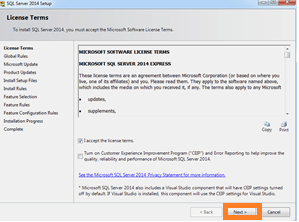 7) It will ask you to check Microsoft updates. After that, click NEXT.
8) Now, it will ask for instance name. Provide it if you want to change otherwise you can set default name. Then, click on NEXT.We need to give SQL server browser services to start up automatically as it required by the Blue Prism.
9) Change the start-up type of SQL server browser to automatic and then Click Next.
10) Give authentication mode to windows and click Next. Then installation will continue which takes few minutes.
Now, the installation of SQL server has been completed successfully.
To configure SQL server with your system.
1) Go to all programs, there open Microsoft SQL server 2014 and Click on Configuration Tools and then open SQL server 2014 configuration manager.
2) Then, you will get the window as shown below. Make sure that start mode is automatic for SQL server (browser and express).
3) If the start mode is running or disabled. Then just right click on that and go to properties. There you can change its mode and click Ok.
Installation, Configuration, and Activation of Blue Prism:
To install the Blue Prism,
1) Go to My Computer, double-click on Setup file. Then, you will get a license agreement. Read all the conditions and click I Agree. Then, click Next.
2) Now, it starts installing Blue Prism on your desktop.
3) Once the installation has been done, it will ask to configure before signing up for Blue Prism.
4) To configure, give connection name, hostname and give connection type as SQL server windows authentication. Then, click Ok.
5) Now it will ask to create a new Database, then go to file and create Database by using default connections. Then, Click Ok.
6) Once it is done, it shows that a new database has been created successfully.
7) Now, sign in to Blue Prism by giving username and password as admin and admin respectively. They are defaults for everyone.
Here, you may wonder, "how can username and password by default be the same for everyone for everyone And how can tool remain protected?"
8) Yes, here we have an option. After singing in into Blue Prism, it will immediately ask you to reset the password.
9) Here, we have to give our new password and then click Finish.
10) Now, your own password has been created successfully.
11) Now, your Blue Prism has been installed successfully. Then homepage of Blue Prism will be opened.
12) Here, the Menu Bar of Blue Prism is inactive. To open that, we have to install a new license, which can be found in downloads.
13) After installing the license, you will find all the tabs are now ready to use.
Above given are few steps which I have used to install and configure the SQL server and Blue Prism.
LOCATION: NOIDA | HYDERABAD | BANGALORE | PUNE  | CHENNAI | KOCHI | 
Data science, being among the hottest career trends of this century, has been attracting eyes for all the right reasons. As leading review websites like Glassdoor and Harvard Business Review have mentioned it among the top jobs of the 21st century, the demand for data...
read more