Blue Prism Certification Guide 2019
0 Comments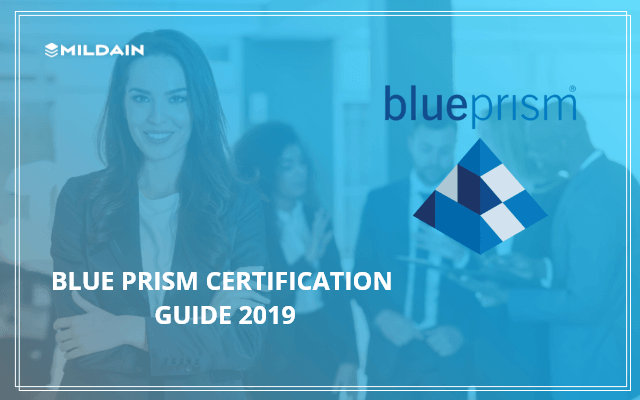 Blue Prism Certification:
Robotic Process Automation (RPA) has attracted the attention of all in a very short span of time. The global automation market is largely expected to be of around $600 million by the end of the year 2020. This is mainly because of rising scope & the demand of the automation tools all over the world.

The fact is more and more organizations are adopting the same and a few have already invested very large amount of money in it. This is due to the diverse array of benefits Robotic process automation can provide. This approach aims to replace the entire human workforce in an organization or a department with the robots. The best thing is that outcome can simply be improved in all the aspects. Because of no other reason than this, the experts widely believe that the rising scope of the automation will create near about 1 million new jobs on (RPA) in next two years.

Thus, providing professional recognition to your automation skills can simply let anyone transform his/her career to next level. When it comes to automation, Blue Prism certification, Ui path, and Automation anywhere are popular name. Blue Prism is one of the important RPA tools we are going to discuss in this blog.
Blue Prism Training:
Mildaintrainings Blue Prism Automation training is becoming more and more recognizable and the best thing is more and more experts in the IT domain are switching their jobs to automation. This is due to fat paychecks, a superb learning environment and in fact due to the reason that Automation has a wide scope in future. Getting trained in Blue Prism is not at all a big deal as you can easily proceed with the same. There are many platforms to avail the same on the World Wide Web and you can apply over there to provide more strength to your overall skills.
Why top MNCs seeks certified experts:
For any company, data management is important and in fact quite essential. Errors in the same can give rise to a lot of problems and therefore organizations are seeking certified and professional experts for this. It is very much true that a certified candidate has top-notch skills. Blue Prism Trained candidates can simply fulfill all the demands of the organization and without enabling them to adopt complex procedures.

This training introduces the experts with multiple technologies and the best thing is a lot of healthy results can easily be derived.

The business process, as well as the data, can simply be maintained through Automation approach. However, training is very essential for the experts to keep up the pace in this matter.

Generally, this training is based on live projects and that is exactly what makes sure to the employers that the certified professionals are familiar with more and more core concepts in the automation. Blue Prism certification is globally accepted.
Importance of Blue Prism Certification:
When it comes to data security, analysis, distribution, as well as management of the same, there are several factors that play an excellent role in enhancing the business profit. The same is not possible with strategies that are traditional. Automation simply enables experts to take a lot of important decisions and analyze multiple situations at the same time.

The developers can simply gain a lot of potentials, as well as knowledge about the different stages of the Blue Prism technology & the flow of different activities in the process.

Application modeling is another important aspect when it comes to automation. Learners can enhance their ability on the same, as well as on the object development

The Blue Prism training programs have a debugging process as their important part and the best thing is the same can easily be strengthened with this training.

Blue Prism Certification simply makes sure that experts can make use of blocks, stages, and designs in the best possible manner. This is exactly what can significantly improve the quality of outcomes.

Certified professionals can easily apply for the jobs in data type and environmental variables which is an important domain in automation in the present scenario.
Career/scope in Blue Prism:
Here I am going to share information About What Blue Prism certified people will get from the Training.
Roles of a Blue prism professional:

You may find many roles in Blue Prism:
Developer around (80% jobs)
Admin (10% jobs approx.)
Architect around (10% jobs)
Here, you notice that Developer has more opportunities
Career after Blue Prism Certification:
The annual salary for Blue Prism certified professional is around $70,000.
The salary for a non-certified is around $43,000.
You will find more details from this, certification guidance
About jobs for Blue Prism:
According to Gartner 2018 survey, Deloitte & Accenture have huge job opportunities for Blue Prism trained people. Blue Prism trained people also have good opportunities in India as well as outside India.

There is huge demand for Robotic Process Automation or RPA especially in Blue Prism because in coming days every company wants to complete their task as early as possible & cost efficient. It's possible and very fast with the help of artificial intelligence (AI) .

Resultant there will be 3Lakhs jobs opportunity would be created by 2020.
Salary Trends
Salary estimated from 194,070 employees, users, past and present job advertisements on Indeed in the past 12 months. Last updated: October 14, 2017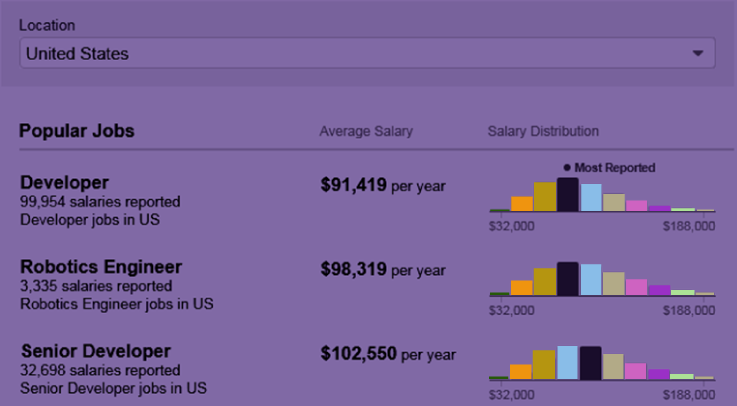 Ref: Indeed.com
Mildaintrainings's offers Robotic Process Automation (RPA) training all over the world as it is very important topic these days. At Mildaintrainings Robotic Process Automation (RPA) courses especially Blue Prism training as Blue Prism is one of the important tools of Robotic Process Automation (RPA), which will cover all the key topics which are very important from career perspective with in-depth learning. It is Instructor-led hands-on practical and lives project training as well. At Mildaintrainings all our trainers have more than 15 years of practical industry experience on Robotic Process Automation (RPA) training which will be helpful to you, in growing your career as RPA expert. Apart from Robotic Process Automation (RPA) training Mildaintrainings also provides other courses like Artificial Intelligence, Machine Learning, Data Science, Blue Prism , Work fusion etc. training as well. One of the most important parts of taking training at Mildaintraining is that we provide six months of technical assistance for our trainees. Which make them strong in their field.

The Key Features of the Mildaintrainings on Robotic Process Automation (RPA) training will be:
Instructor LED Training
Real-Time Learning
Assignments
Clarity on all concepts with practical
24×7 Expert Supports
Assistance of RPA training
FOR MORE DETAILS CONTACT US