AWS is referred to as Amazon Web Services. It is a cloud computing platform. The AWS platform was launched in 2006. Amazon provides the different services that are Infrastructure as a Service (IaaS), Platform as a Service (PaaS) and Software as s Service (SaaS).
Azure is the product of Microsoft and mainly referred to as Microsoft Azure. It is also a cloud computing service platform. It was created by Microsoft and initially released in the year 2010. It supports the Linux and Microsoft Windows operating systems.
Google Cloud is a cloud computing platform, which was developed by Google. It was initially released in the year 2008. It was written in Java, C++, Python including Ruby. It also provides the different services that are IaaS, PaaS and Serverless platform.
Currently Trending Technology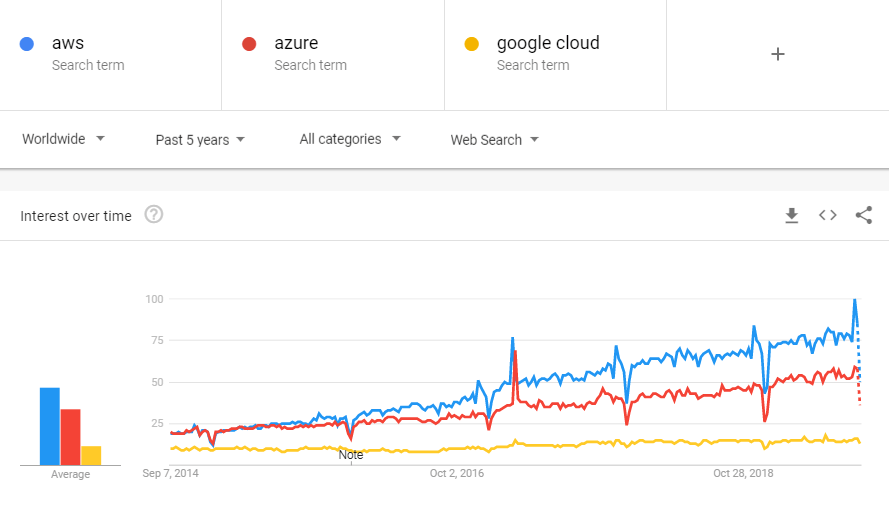 AWS Vs Azure Vs Google Comparison
AWS vs. Azure vs. Google: Compute
AWS:
Elastic Compute Cloud: Amazon's flagship compute service is Elastic Compute Cloud, or EC2. AWS EC2 users can configure their own VMs or choose pre-configured machine images, or customize MIs. Users choose a size, power, memory capacity and number of VMs, and choose from different regions and availability zones with which to launch from.
Microsoft Azure:
Virtual Machines: Microsoft's primary compute service is known simply as Virtual Machines. It boasts support for Linux, Windows Server, SQL Server, Oracle, IBM, and SAP. Azure users choose Virtual Hard Disk (VHD), which is equivalent to a Machine Instance, to create a VM. VHD can be pre-configured by Microsoft, the user or a third party. The user must specify the number of cores and memory.
Google:
Compute Engine: By comparison, Google's catalog of compute services is somewhat shorter than its competitors'. Its primary service is called Compute Engine, which boasts both custom and predefined machine types, per-second billing, Linux and Windows support, automatic discounts and carbon-neutral infrastructure that uses half the energy of typical data centers. It offers a free tier that includes one f1-micro instance per month for up to 12 months.
AWS vs. Azure vs. Google: Storage
AWS:
AWS Cloud Storage offers a complete range of cloud storage services to support both application and archival compliance requirements. The cloud storage products include Amazon EBS, Amazon EFS, Amazon FSx for Lustre, Amazon Glacier, etc.
Microsoft Azure:
Azure Storage offers a massively scalable object store for data objects, a file system service for the cloud, a messaging store for reliable messaging, and a NoSQL store. It includes data services such as Azure Blob, Files, Queues and Tables.
Google:
Google Cloud Storage is an infrastructure-as-a-service for storing and accessing data. It is a unified object storage for enterprises.
AWS vs. Azure vs. Google: Networking
AWS:
Amazon offers Virtual Private Cloud (VPC) so users can create isolated networks within the cloud. Within a VPC, a user can create subnets, route tables, private IP address ranges, and network gateways.
Microsoft Azure:
Microsoft offers Virtual Network (VNET) that offers users the ability to create isolated networks as well as subnets, route tables, private IP address ranges, and network gateways. Both companies offer solutions to extend the on-premise data center into the cloud and firewall option.
Google:
Google Compute Engine instance belongs to a single network, which defines the address range and gateway address for all instances connected to it. Firewall rules can be applied to an instance, and they can receive a public IP address.
AWS vs. Azure vs. Google: Hadoop Clusters
AWS:
Amazon EMR (Elastic Map Reduce) supports for creating and managing fully-configured elastic clusters of Amazon EC2 instances running Hadoop and other applications in the Hadoop ecosystem. It also includes EMRFS which is a connector that allows Hadoop to use Amazon S3 as a storage layer.
Microsoft Azure:
Azure provides HDInsight which can easily run popular open-source frameworks including Apache Hadoop, Spark, and Kafka.
Google:
Google cloud includes Cloud Dataproc, which is a managed Hadoop and Spark environment. A developer can use Cloud Dataproc to run most of the existing jobs with minimal alteration.
AWS vs. Azure vs. Google: Pricing
AWS Pricing: Amazon's pricing is particularly inscrutable. While it does offer a cost calculator, the many number of variables involved make it difficult to get accurate estimates. Gartner advised, "[Amazon's] granular pricing structure is complex; use of third-party cost management tools is highly recommended."
Azure Pricing: Microsoft Azure doesn't make things any simpler. Because of Microsoft's complicated software licensing options and use of situation-based discounts, its pricing structure can difficult to understand without outside help and/or considerable experience.
Google Pricing: By contrast, Google uses its pricing as a point of differentiation. It aims to offer "customer-friendly" prices that beat the list prices of the other providers. Gartner noted, "Google uses deep discounts and exceptionally flexible contracts to try to win projects from customers that are currently spending significant sums of money with cloud competitors."
AWS vs. Azure vs. Google: What's Best for You?
The AWS Choice: You can't go wrong with AWS due to its rich collection of tools and services and massive scale. The only reason not to choose Amazon is if you want a more personal relationship, something a small boutique shop can offer. At its size, it's hard for Amazon to have a close relationship with every customer, but there are resellers and consultants who can offer that type of attentive focus.
The Azure Choice: Microsoft's greatest appeal is, of course, to Microsoft shops. All of your existing .Net code will work on Azure, your Server environment will connect to Azure, and you will find it easy to migrate on-premises apps. Futhermore, Azure's deep focus on the hybrid cloud will help you bridge the legacy data center environment with the rapidly scalable (and feature rich) Microsoft cloud.
The Google Choice: Google is growing quickly but is a work in progress. Naturally the search giant doesn't have a legacy background in dealing with businesses. But it is fully committed and has plowed billions into its cloud efforts. And it is partnered with Cisco, which does know the enterprise. The people who should look at Google now are the ones who looked a year ago and didn't like what they saw. They might be surprised. Google has built its cloud on its strength, which is scale and machine learning. it's clearly worth a look.
AWS Vs Azure Vs Google Comparison Table